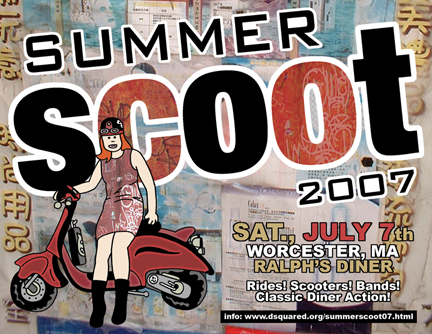 Hello everyone.
There are only 3 months and a couple days until
Summer Scoot '07
. The
entire month of July is full of fun scooter event weekends. Have you
made YOUR plans yet?
************************
SUMMER SCOOT '07
Friday & Saturday, July 6 & 7, 2007
Ralph's Diner, Grove Street, Worcester, MA
(same weekend as
Summer Nationals
http://www.summernationals.com
)
event website:
http://www.dsquared.org/summerscoot07.html
************************
NEWS:
-
Summer Scoot '07 PRE-REGISTRATION
is going on now until July 5th.
Sign up and PayPal me $10 and you'll be assured of getting all of the
Summer Scoot goodies.
- The
embroidered patch
design has been sent off to the manufacturer
and it looks really sharp! Here is a sneak preview: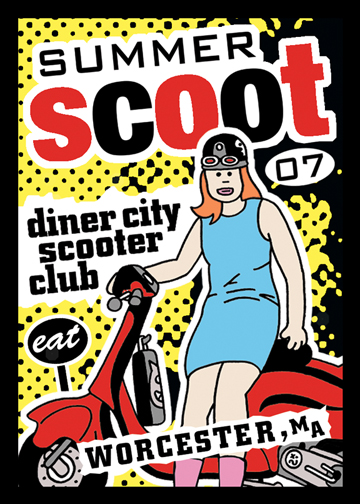 -
Promotional postcards
are being distributed all over the place, but
we could really use your help! If you would like to help spread the
word about Summer Scoot '07 by getting some of these full color glossy
2-sided postcards, please e-mail me and let me know. (
scootergeek@... ) I'll be leaving a box of postcards at Wagner
Motorsports in Worcester this week if people want to just pick up some
to give out. I've even mailed a stack to a guy in the NH scooter club
because he wanted to help get more NH people involved in the event.
-
Summer Scoot '07 T-SHIRTS
based on the postcards design are now
available from CafePress. Go to the Summer Scoot '07 website (
http://www.dsquared.org/summerscoot07.html
) and click on "Stuff For
Sale". There is also going to be a VERY limited edition silkscreened
event shirt, but that's still in the works.
and...
SCOOTERS and FREE COMIC BOOK DAY
is coming up on Saturday, May 5th at
on Park Ave. in Worcester. Scooter riding, an
ENORMOUS comic book & collectible shop, more scooter riding, and
ANOTHER comic book shop, both offering a selection of FREE comic books
for all. More info:
http://www.dsquared.org/dcsc.html
Thanks alot. Thanks for bearing with me as I try to get the word out
about
Summer Scoot '07
.
-Doug / Action Geek
http://www.dsquared.org